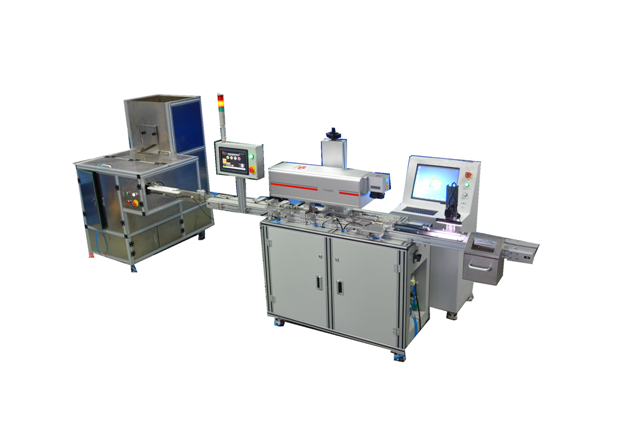 The dual-track UV laser coding system automatically can print on the plastic cover of specific medical diagnostic cassette, and complete the printing of the QR code, characters, arrow marks etc. on the top cassette through the automatic screening and feeding method. The equipment is highly efficient and automatic, after feeding cassettes, automatic laser coding can be completed quickly as required.
Main Feature:
The whole system is smart and compact, easy to maintain;
Touch screen bilingual interface, easy to learn;
The equipment automatically runs, feeds, stocks materials, and automatically recognizes the head and tail of the cassette to ensure the continuous operation;
Material transferring module and laser coding module work perfectly to maximize production capacity;
Equipped with leading domestic UV laser brands, clear coding and diverse contents, and can print QR codes, bar codes, characters, pictures, etc.
The HD visual inspection and recognition system can detect the coding content, positional deviation and readability issue, and automatically identifies and rejects defective products.
Technical parameter:
Total power: 2.2KW
Air supply: 0.5 ~ 0.8MPa
Capacity: 3000 ~ 3500 / hour
Equipment / material size can be customized