On August 5, the State Council held a regular policy briefing on the theme of improving the ability to detect new corona virus. At the meeting, it emphasized accelerating the development of antigen detection products. Compared with antibody detection, antigen detection products can be detected earlier and can be used as A direct evidence of the existence of the new corona virus, so speeding up the development of antigen products will help enrich our country's detection technology.
Faster and more economical antigen detection can diagnose active infection by finding early virulent traces of the virus instead of the genetic code of the virus itself. It can quickly detect viral protein fragments in swab samples taken from the nostril or throat, automatically provide accurate results within 15 minutes , which speed up the diagnosis time and treatment speed, and diagnose whether the new corona virus is infected in a short time without expensive equipment, training and skills. Compared with nucleic acid detection reagents, antigen detection reagents have lower cost, more convenient operation, and shorter time, which are more conducive to the detection of COVID-19 in low and middle income countries/regions.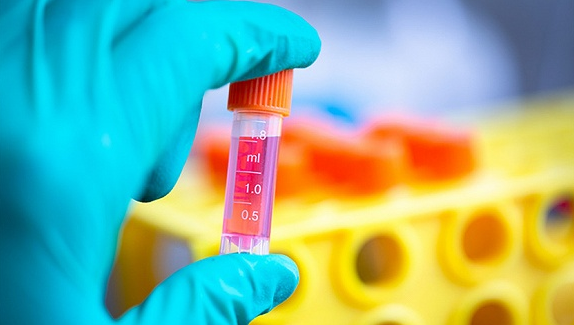 Principle of antigen detection reagent
Antigen detection is to first prepares N protein or S protein from the new corona virus, then immunizes animals such as mice, rabbits, etc. to obtain monoclonal antibodies or polyclonal antibodies against the corresponding antigen, and then make these antibodies into a test kit to detect the concentration value of the corresponding antigen in patients with new corona pneumonia. This antigen detection method can be used as an indicator for early detection of COVID-19.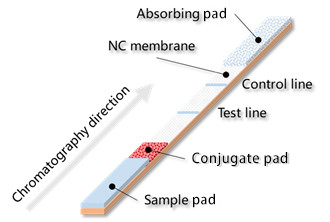 Schematic diagram of antigen rapid detection test strip
The core technical method of antigen detection
Mainly POCT technology includes immunochromatographic colloidal gold method, immunochromatographic fluorescence method and high-throughput chemiluminescence technology. The former qualitatively or semi-quantitatively detects neocoronavirus antigens; the latter quantitatively and high-throughputly detects neocoronavirus antigens. The antigens currently being tested include N-protein and S-protein.
The performance of test products directly affects the test results, so a full range of high-quality test reagent production equipment and raw materials are the key to producing high-quality test products.
Since the development of Kinbio for nearly 20 years, it has always focused on the scientific research, innovation and development of the IVD industry, and has taken the pursuit of product quality and customer service as its own responsibility. The full range of production equipment for rapid diagnostic test strips provided by Kinbio includes R&D and production phases. It can provide customers with different production needs with the most suitable production plan, including reagent solution coating equipment, cutting equipment, laminating equipment (roll + card type), assembly rolling equipment, reagent filling equipment, automatic cassette assembly and packaging equipment and laser coding equipment, etc.
During the epidemic, the full range of production lines developed by Kinbio have provided production solutions for many well-known IVD companies.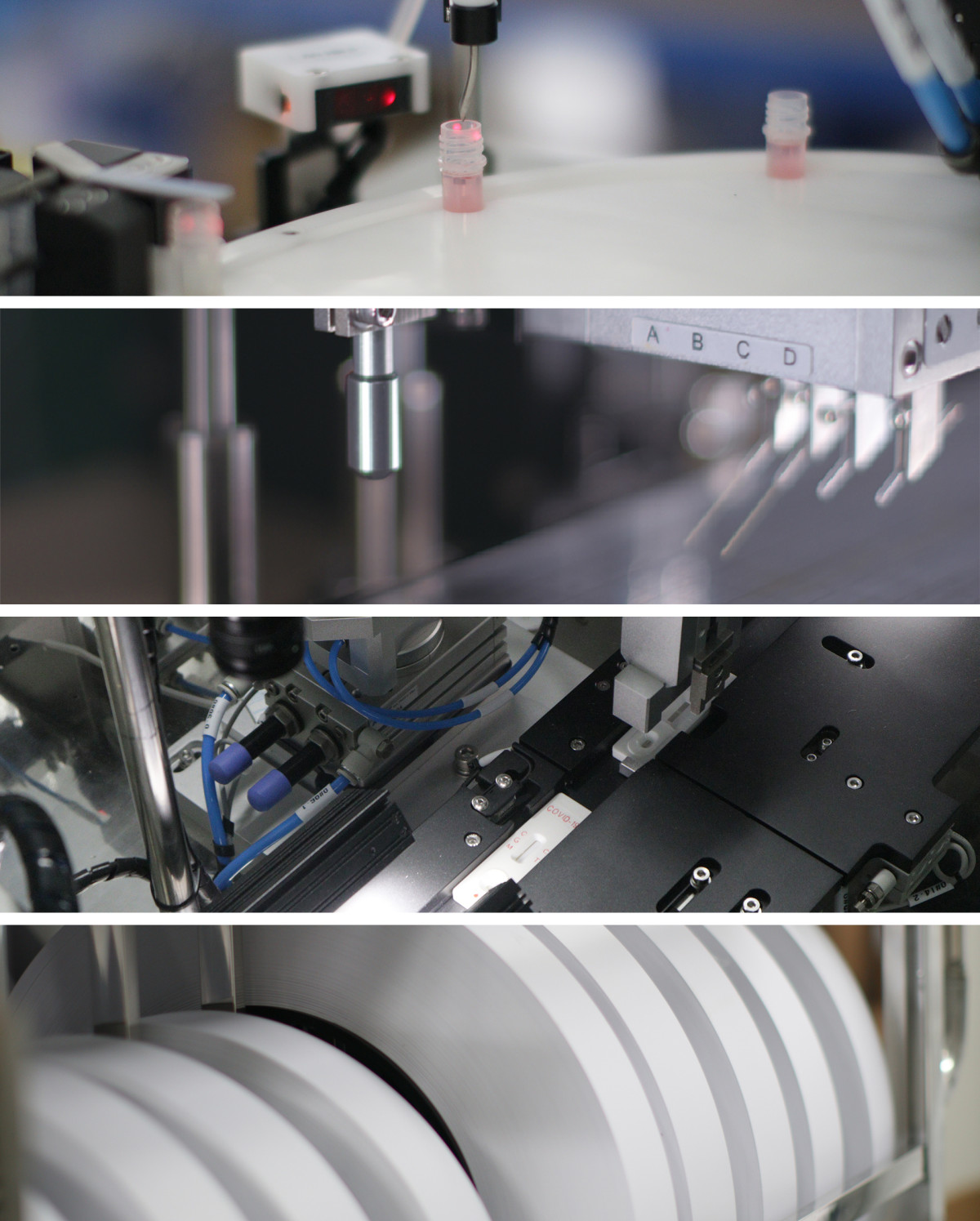 Production equipment recommendation form for reference:
Category

Equipment Name

Technical Parameters

Usage

Reagent solution coating equipment

XYZ Platform Dispenser and Sprayer HM3035

Dispensing efficiency of single pump:200-300 sheets (30cm)/h;Spraying efficiency of single pump:700-900 lines (30cm)/h

Dispensing and spraying can be automatically switched

Cutting Equipment

Programmable Sheet Cutter CTS300

Maximum cutting speed:280 times/min;Width:5-50mm

Consumables cutting

Strip Cutter ZQ3502

Maximum cutting speed:450 times / min;Sheet width≤98mm

Uncut sheet cutting, can be fed automatically

Laminating Equipment

Reel to Card Laminator and Dispenser CTM650+HM8008

Backing width:45-98mmCutting length:260-600mmRunning speed:50-200mm/s(10-40 sheets/min)

Continuous laminating and dispensing of roll type consumables

Assembly Rolling Equipment

Assembly Roller YK725

Running speed:0-15 meters/min

Cassettes pressing

Filling and Labeling Equipment

Filling machine GZ350-1

Filling accuracy of gradient pump:≤±1%;Filling accuracy of peristaltic pump pump:≤±3%;Filling efficiency:35-45pcs/min

Filling and labeling of biochemical, immunological and molecular diagnostic reagents

Side vertical labeling machine CLT500

Labeling efficiency:50-80pcs/min;Label width:8-40mm;Label length:12-55mm
Among them, filling machines and strip assembling and packaging machines in non-standard automation equipment are favored by many IVD testing reagent manufacturers, which improved their production efficiency and are the first choice of many mass production IVD companies. The equipment uses an automatic control system to perform a series of automatic operations from cutting test strips to strip assembly, cassette packaging, sealing, and coding to complete mass production requirements and can be customized according to customer needs.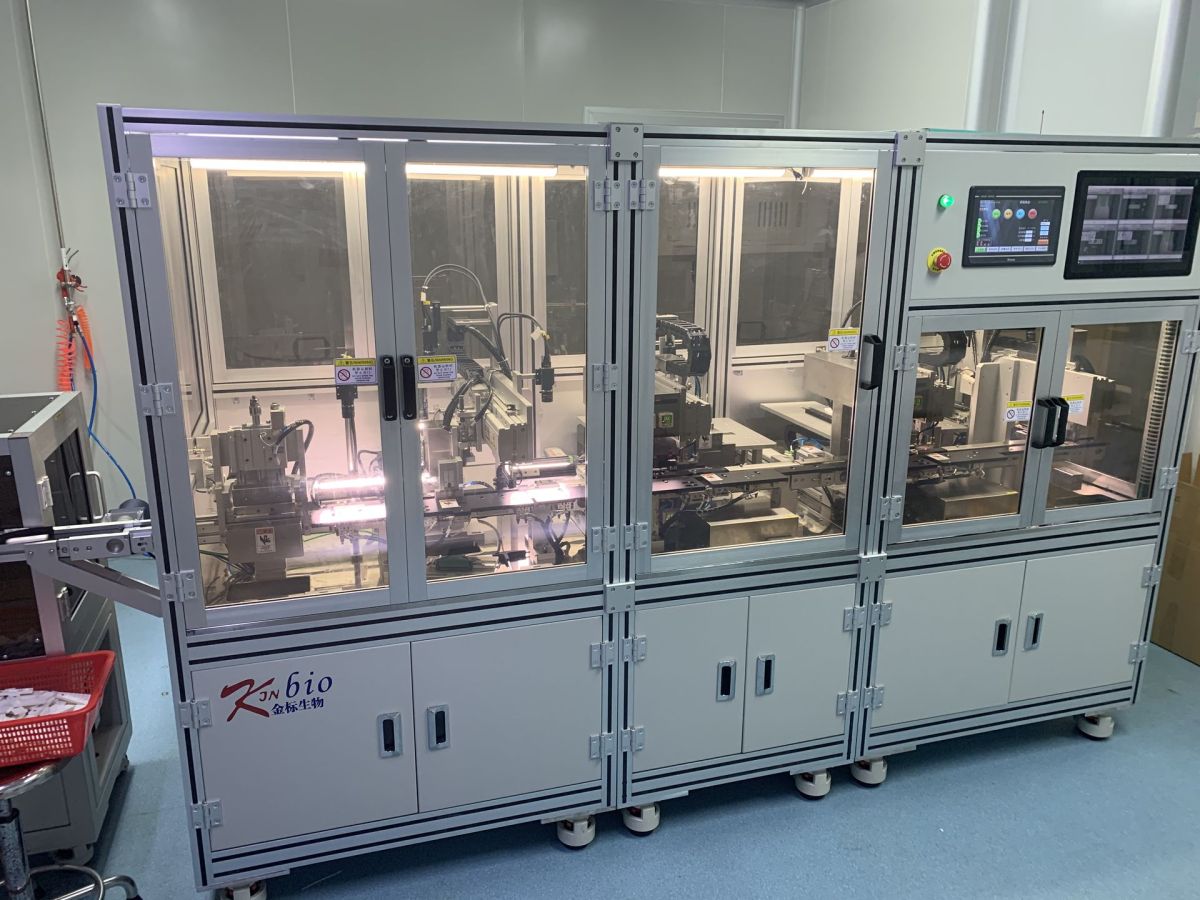 Full automatic strip assembling machine and packaging machine
At the same time, we can also provide a full set of high-quality diagnostic test strip production consumables, including backing card, glass fiber, polyester fiber , special absorbent paper, NC membrane, protective film strips, etc.
Consumables Type

Model Recommended

Parameters

Usage

Plastic backing card

SM31-25

Thickness:25mm;Single side glue

Strip backing

Glass fiber

SB08

Thickness 0.32-0.48mm;Climb speed 15-32mm/60s

Conjugate pad or sample pad

RB65

Thickness 0.25-0.35mmClimb speed 20-45mm/60s

Polyester fiber

VL98

Thickness 0.25-0.35mmClimb speed 15-40s/4cm

Conjugate pad

DL42

Thickness 0.37-0.53mmClimb speed 20-160s/4cm

Special absorbent paper

CH37

Thickness 0.87-1.13mmClimb speed 40-180s/4cm

Absorbent pad
From initial research and development to the transformation of scientific research results, Kinbio provides turnkey engineering services for immunochromatographic test strips, which can provide a complete set of immunochromatographic test strip production line solutions for IVD companies, including a series of immunochromatographic technology training, antigen/antibody various technical services such as raw material evaluation, colloidal gold test strip technology transfer, commissioned personnel training and technical service consulting. According to customer needs, Kinbio can undertake a series of services such as the design of a complete set of colloidal gold test strip R&D and production workshops and standardized laboratories, equipment selection, installation and commissioning, production process flow, etc., and provide corresponding technology transfer according to the actual needs of customers.
If you have a demand for the full range of new corona testing products, production equipment and consumables, Kinbio can provide you with high-quality related products and high-quality after-sales service, jointly help the global epidemic prevention and control work, and make a contribution to building a global community with a shared future .